Podcasts are handy for listening on the go, during exercise, or having on in the background. They're also a great way to keep-up-to-date and learn more about teaching and learning. These are some ideas for podcasts to get started with pitched at both teachers and learners. Please do submit your favorites in the comments.
Podcasts for Teachers
Cult of Pedagogy
Teaching strategies, classroom management, education reform, educational technology — if it has something to do with teaching, we're talking about it. On the podcast, I interview educators, students, administrators and parents about the psychological and social dynamics of school, trade secrets, and other juicy things you'll never learn in a textbook.
Truth for Teachers
Truth for Teachers is consistently rated in the top ten K-12 podcasts on iTunes. A new 15 minute episode is released each Sunday, and is designed to speak life, encouragement, and truth into the minds and hearts of educators to get you energized for the week ahead.
10-Minute Teacher Podcast
Are you a busy K12 classroom teacher? The 10-Minute Teacher Podcast is a 5-day a week interview style podcast. Inspiring K12 educators from around the world are interviewed on this show in a quick interview that is usually around 10 minutes long.
https://www.coolcatteacher.com/podcast/
K-12 Greatest Hits
K-12 Greatest Hits bring together the most insightful, relevant , compelling and up to date thinking on the education issues that parents, educators, and advocates need to know.
https://www.bamradionetwork.com/k-12-greatest-hits/
The Five Moore Minutes' Podcast
This is Five Moore Minutes! An inclusive education channel supporting the teaching and learning for ALL students. In this short introduction video, you will learn about the structure of the project and some of the big ideas! A new video episode will be released every month, highlighting a new inclusive idea or concept in an accessible way.
https://fivemooreminutes.podbean.com/
Moving at the Speed of Creativity Podcast
Moving at the Speed of Creativity Podcasts include presentations and reflections relating to student engagement, the effective use of digital technologies to support learning, digital storytelling, web 2.0 in the classroom, and other topics related to improving both teaching and learning.
http://www.speedofcreativity.org/category/podcasts/
The Edtech Podcast
This one is focused on corporate and alternative models of education technology and innovation, with a future focus, but great ideas and discussion points.
https://theedtechpodcast.com/edtechpodcast/
Learning Transforms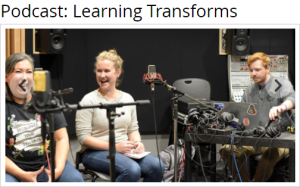 Learning Transforms with Ted Riecken and Cortney Baldwin is a podcast on research, practices and inspiring people and subjects related to education. Coming to you from the Faculty of Education and the Association of Graduate Education Students (AGES).
https://www.uvic.ca/education/news/podcast/index.php
The Critical Thinking Initiative Podcast
Research-based solutions, interviews, pragmatic classroom applications, and current events in critical thinking.
http://www.thecriticalthinkinginitiative.org/podcast.html
CBC Spark
Focuses on the social implications of emerging technology. Education is not the exclusive focus, but a recurring theme.
Teaching in Higher Ed Podcast: Faculty Development for Professors
Explores the art and science of being more effective at facilitating learning. Explores ways to increase productivity so we can have more peace in our lives and be even more present for our students.
http://teachinginhighered.com/episodes/
Science Podcasts for Learners
Brains On
Welcome to Brains On! We're an award-winning science podcast for kids and curious adults from American Public Media.
But Why
But Why is a show led by you, kids! You ask the questions and we find the answers. It's a big interesting world out there.On But Why, we tackle topics large and small, about nature, words, even the end of the world.Have a question? Send it to us!
https://www.npr.org/podcasts/474377890/but-why-a-podcast-for-curious-kids
Tumble
Tumble is a science podcast for kids, to be enjoyed by the entire family. We tell stories about science discoveries, with the help of scientists! Join Lindsay and Marshall as they ask questions, share mysteries, and share what science is all about.
http://www.sciencepodcastforkids.com/
Reading Podcasts for Learners
The Radio Adventures of Eleanor Amplified
Buckle up! Your car is headed for… adventure! Eleanor Amplified is a radio adventure series for the whole family. Listen together as world-famous radio reporter Eleanor foils devious plots, outwits crafty villains, and goes after The Big Story. Eleanor's pursuit of truth takes her into orbit, out to sea, through a scary jungle and even to the halls of Congress!Like all the public media shows you love, Eleanor Amplified is entertaining and informative. Eleanor defends the very values you expect from high-quality journalism. The importance of access to information. Being inclusive of different points of view. Telling the truth, and more. Eleanor will spark laughter and conversation the whole family will enjoy, while preparing kids to appreciate journalism and make smart media choices in the future.
https://www.npr.org/podcasts/483123262/the-radio-adventures-of-eleanor-amplified
The Alien Adventures of Finn Caspian
Finn Caspian has had better birthdays. He can't sleep, he can't shake the feeling someone is following him, and he can't stop the monsters who show up to smash his cake. In other words, it's turning out to be more exciting than he expected. That's all in the first few episodes of this award-winning, serialized podcast for kids. Finn, his friends and their pet robots aboard the  Famous Marlowe 280 Interplanetary Exploratory Space Station discover uncharted planets, help aliens in far-off galaxies, and take tips from listeners back on earth as they try to solve the universe's great mysteries.
http://www.finncaspian.com/episodes/
The Unexplainable Disappearance of Mars Patel
The Unexplainable Disappearance of Mars Patel is a scripted podcast for middle grade kids, performed by middle grade kids. It is a fun, high-quality, serial mystery that can be described as Goonies meets Spy Kids meets Stranger Things for 8-12 year olds. It was voted as one of the top 50 podcasts of 2016 by The Guardian, and was recently honored as a Peabody award winner.
Stuff you Should Know
Stuff You Should Know! They have a huge range of topics, and they deliver information with peer reviewed facts and humour. They give trigger warnings at the beginning of episodes so that you know the age range or sensitive content involved in the podcast. They also take in corrections if someone with more knowledge messages them and will fix their information on their next podcast. (Submitted by Allison)
If you have other education related podcasts that are useful for teachers, please post them in the comment section below.